Have you ever checked if the people whom you're following on twitter are really following you back?
Manage Flitter allows you to view who is not following you back on twitter. If you wish to clean up your list and keep only the ones who follow you as well, this is a great tool to find the ones who don't follow you and knock them off your twitter list.
Standard account with certain features that are available for free -
Unfollow those who don't follow you
Search by Bio and Tweet
View by Order filter – Follow Date, Followers,  Following Listed, Tweets, Username, and Last Tweet (This is located right above the twitter listings at the center of the page)
You can also view twitter profiles that don't have profile pictures, inactive profiles, etc. (Filter located towards the left)
Premium services with a $12 a month- 
Instant login, there's no delay or slow loading as you notice in the free features.
Track everyone who has unfollowed you and when.
Detailed reports of activities on time-basis
Whitelist people you won't unfollow. (Feature available on ManageFlitter)
Standard account allows you to follow/unfollow a 1000 people. Using a premium account you can follow/unfollow thousands.
Pro Mode that enables powerful new filtering options.
The Dashboard has an option to sync your Google+ posts into Twitter which is available for free. But it does not seem to work for me. (Let me know in the comments section if it does for you)
Log into ManageFlitter - 

Screenshot of what you can do -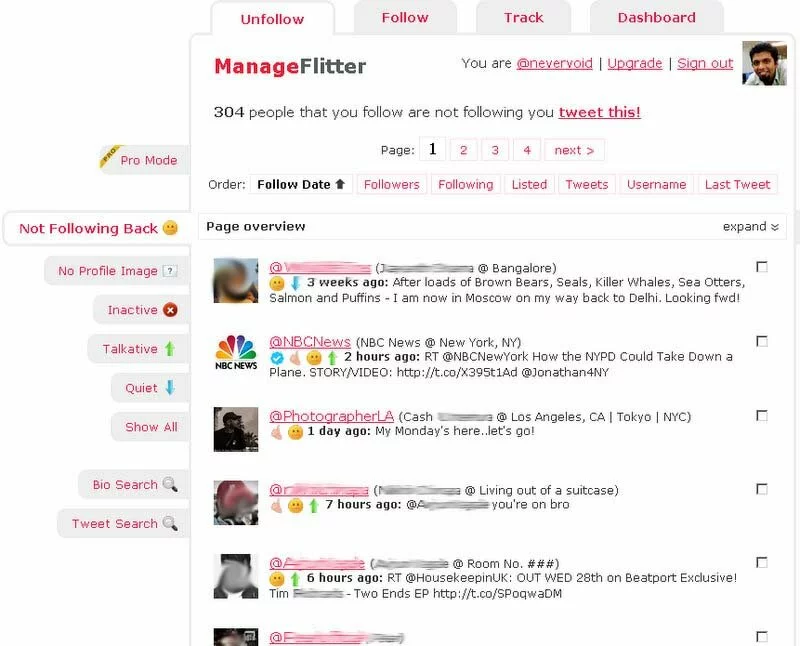 Number of Views :805