Got an instant message (chat) with a link in it when your boss is around or when you're doing something really important? You still want to save that link to be able to read it later at leisure?
I found this nifty plugin for Google Chrome which is called Read Later Fast.
How do I get it -
1. Launch your Google Chrome browser and go to https://chrome.google.com/webstore/detail/decdfngdidijkdjgbknlnepdljfaepji?hl=en-US&hc=search&hcp=main.
2. Click on Add to Chrome.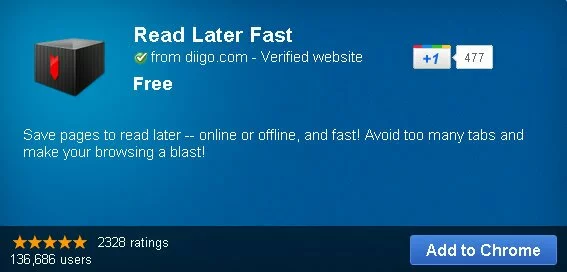 3. Click Install to allow the plugin to install in your Google chrome browser.
4. Open a new tab and you'll see Read Later Fast icon.
5. Open the link or browse to the web-page you wish to save and read later; right-click on a black space on the web-page and click Read Later.
6. Now open a new tab and then click the Read Later icon and you will see the list of link(s) saved.
7. Click on the link to have a preview of the content in that link instead of visiting that link.
Delete or archive saved links or webpages – click and select the link you're done reading or the ones you archive/do not wish to keep and click Delete.
Sync saved links with an online service – click Save Online on the top-left and sign in with your Google account or create an account with Diigo.com.
Assign shortcut key to save links to read later – click Preferences -
Click the Keyboard Shortcut for read-later check-box and assign an alphabet so you could use those combination of keys to save the webpage to be able to read later.
Click the second check-box if you wish to automatically close the webpage after saving it to read later.
Do let us know if you have any other ways to save a link.
Number of Views :735