Unlike Google Docs Spreadsheets, I'm not sure if you can get notified about a modification/change in a Google Doc Document.
Personally I use Google Docs to collaborate and also have my documents saved on there. When I share a Google Doc document with collaborators, I really want to know about the changes made to it from time to time, instead of getting to Google Docs and checking them.
Thanks to Gergely Imreh for creating a free plugin called WatchDoc for Google Chrome that displays the number of notifications on the browser whenever there is a change or modification in your Google Docs.
Yes, currently this plugin is available only for Google Chrome users.
Sounds interesting! How do I get it?
1. Go to https://chrome.google.com/webstore/detail/okagolgbanbllgndpnacdhohdfacdhfm?hl=en# and click on Add to Chrome.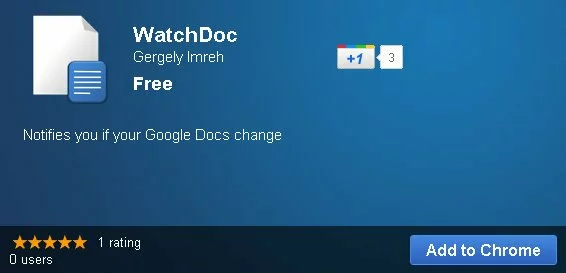 2. Click Install to install this plugin into your Google Chrome browser and your plugin would be installed in a few seconds.
3. You will now see the WatchDoc icon on the top-right next to your other icons on your browser. Click on the icon and if you're not logged into your Google account, click on Login to allow access for this plugin.
4. Click on Grant access to allow WatchDoc to access your Google Docs.
5. When your Google Docs change or any modifications are made by your collaborators or the ones you've shared it with, you will immediately see the notification on the WatchDoc plugin on your browser. You can click on the icon to get a drop-down list to see the Google Doc that has the changes. Just click on the link to directly open the Google Doc.
Number of Views :1061