You would have tried those applications which are built by third-parties that help you make a welcome page or run contests, etc.
Once you install it and figure that it requires complicated coding or configuration, you realized that you don't have time and wish you could just undo what you did.
If you run into such situations, you will be able to see the tab on the left below your display picture on your Facebook page.
Browse to your Facebook Page and just put your mouse pointer on one of those tabs and you'll be able to see an x mark next to the tab. Just click on it, and it disappears in a jiffy!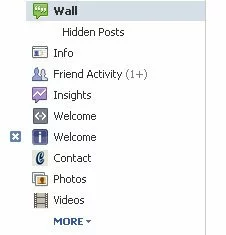 Number of Views :768