Were you waiting for iPhone 5? Apple introduces iPhone 4S with Dual-core A5 chip, all-new 8MP camera with optics, iOS5 and iCloud, and introducing Siri all at a starting price of $199.
The Features -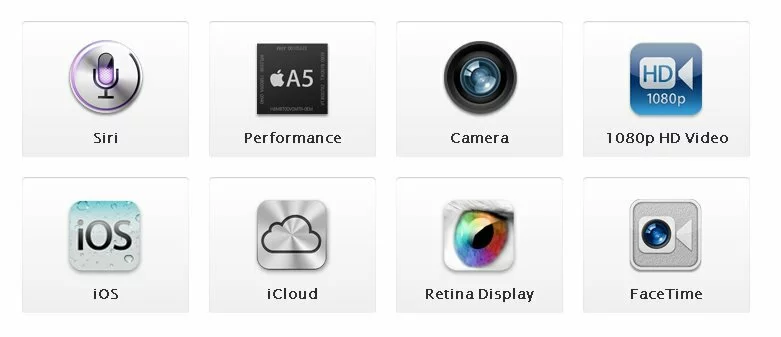 Siri -
How do you like to change your iPhone to your personal assistant? Talk to your iPhone and get things done using Siri. Make calls, send messages, schedule meetings, set reminders and more with just your voice. Siri is available only on iPhone 4S and requires Internet
access. Siri may not be available in all languages or in all areas, and features may vary by area. Cellular data charges may apply.
Dual-core A5 -
A powerful chip that is very quick and responsive while launching apps or even when browing the web. Faster graphics and improved battery life.
Camera -
A brand new camera with all-new optics which is a 8 megapixel and a custom lens with a large aperture of f/2.4 which allows you to take pictures while handling low-light. Auto white balance, reduced motion blur and more which is an obvious need for photographers.
1080 HD Video recording -
With the all-new optics and large aperture of f/2.8 you can now shoot awesome HD videos that are vivid and less shaky with video stabilization. You can also edit your videos and share them right on.
iOS 5 -
Notification center – one place to receive texts, email messages, reminders and more just like the one on Android.
iMessage – send unlimited messages to any iPhone, iPad or iPod touch that runs on iOS5 just like the blackberry.
Sign in once – Sign in using Safari just once to access all your accounts like Youtube, Maps and more.
Improved reminders with due dates, enhanced camera, iCloud to access your stuff from anywhere and more.
iCloud -
iCloud lets you manage all your stuff in one place. Store music, photos, emails, contacts, documents and more and access them wirelessly via iCloud. You can also push all of these automatically to the cloud so you can access it anytime.
Retina Display -
The Retina display is the highest-resolution phone screen ever because the pixel density is high. Crisp text and sharp graphics that displays stunning images. It's not the usual display!
Facetime -
FaceTime lets you hear and see faces between iPhone to iPhone, iPad 2, iPod touch, or Mac over Wi-Fi. You don't need a GSM or a mobile network to do FaceTime. And it's even easier with Siri. Just tell Siri "FaceTime with Mom" and you show up, smile, and wave hello.
via
Number of Views :411